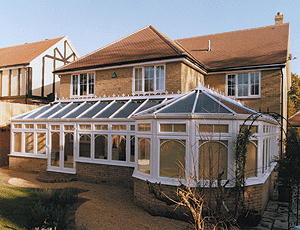 Extend your house into the garden
Gable end combination adds charactor
DP Windows are double glazed P-Shaped conservatory specialists based in Witney, Oxon, Oxfordshire
Combining 2 distinct areas into one attractive and very versatile conservatory.
Choices P-Shaped conservatories combine a mixture of Lean-to and Victorian/Edwardian styles which when viewed from above takes the shape of a P
What Choices customers love about the P-Shape style is that it almost equates to adding an additional two rooms to your house, as it can allow for one section to be used for dining and the other to be enjoyed for relaxing.
It is completely adaptable to suit all house styles and bungalows. For bungalows and other height-restricted situations, a hipped-back roof with box gutter is normally supplied.
Options and extras
With our experienced conservatory designers to hand you can be sure you will get exactly what you want. So that your new conservatory is made to your requirements, Choices offer a range of options such as the position and number of the doors, the number of opening windows or the colour of the window boards. These are just some of the decisions we will help you make to ensure your conservatory compliments your home and makes the most of the space it fills.
Available in full height glass, or dwarf wall designs, with various colour and woodgrain frame options. See the shapes and styles range of Choices conservatories.
All Choices conservatories are provided with 28mm or 35mm polycarbonate roofing systems as standard with the very popular option of upgrading to a solar control, self cleaning, glass roof. Manual or automatic roof vents can be built-in as required to provide more ventilation if necessary.