System 88 - The Future - NOW
The call for higher performance in terms of thermal efficiency is getting louder and louder and CWG can answer that call.
Kömmerling has the System and CWG can manufacture it - so think in terms of 0.86 window U Value.
Its environmental credentials start with its PVCU manufacture which has no lead and uses the highest proportion of recycled material possible. The result - eco friendly PVCU profiles whose superior insulation values help save heating costs and reduce C02 emissions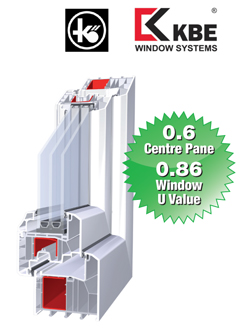 The basis of the 88mm System is six chambers and triple glazed sealed units. The System as a whole achieving the high performance without the use of expensive Krypton gas in the sealed units. Available as Tilt and Turn and fixed pane combinations with single and double doors..
Windows
Standard - Tilt and Turns
All PVCU
Centre pane U value 0.6
Window U value 0.86
87mm outer frame
6 chambers
Choice of 7 colours
Further 40 colours and 4 metallic finish options available
Maximum sash size 1100w x 2000h
Foils
Standard foils

Mahogany

Golden Oak
Special Foils on white only

Dark Green

Silver
Grey

Anthracite
Grey

Anthracite
Grey Plain

Slate
Grey Plain
---
Windows
Alustar - Tilt and Turns
Aluminium skin covering external of the PVCU frame
Centre pane U value 0.6
Window U value 0.86
6 chambers
Ultra modern aluminium finish
Virtually unlimited range of colours
Optimal weather resistance by clip on aluminium cover
Maximum sash size 1100 x 2000h
---
Doors
Alustar - Tilt and Turns
88mm Doors available open inward or open outward in single or double door combinations.
---
Passivhaus
Passivhaus - Tilt and Turns
All PVCU
Centre pane U value 0.6
Window U value 0.74
6 chambers
Central seal
Insulation in the chambers
Bonded glass
White only
Maximum sash size 1100w x 2500h or 1500w x 1500h
What does Passivhaus certification mean?
In simplest terms, it is a building insulated to a very high standard with openable windows manufactured to the highest standard of thermal, wind and rainproofing performance. The result is a total energy demand of less than 15kWh/m2.yr. It does not have a conventional heating system, although a small heater can be incorporated into the mechanical ventilation system.
System 88 has been awarded this certification by the Passivhaus Institut in 2010 and hence, this window is a building component suitable for Passivhaus projects.